Victoria denisova (otkrytiye bank): mobile signature comes to private
Text: VADIM FERENETS, B.O COLUMNIST
Victoria Denisova, Senior Vice President, Director of the Otkrytie Private Banking Department, told B.O (Bankovskoye Obozrenie magazine) why innovations and financial technologies are so important for bankers working with affluent customers.
— Victoria, what is private banking now?
— Private banking means service of large, affluent customers. According to our rules, we cooperate with those who provide the minimum balance amount of 30 million rubles in Moscow and St. Petersburg and 15 million rubles in other regions.
Our main expertise in private banking is the management of private capital through the selection of investment products relevant to each particular customer. Moreover, you can also choose Lifestyle services in our portfolio of related non-financial services, which include travel organization services, child education, starting a business, and tax advice.
Besides, since we fully use the IT platform common to Otkrytie Bank, we provide each customer with a full range of classic banking products, and they also have access to the entire infrastructure for operations. This is the daily banking which includes payment card products and transactions on them, as well as all kinds of transfers and payments through the RBS, loans—both ordinary consumer loans and mortgages, loans secured by securities, etc.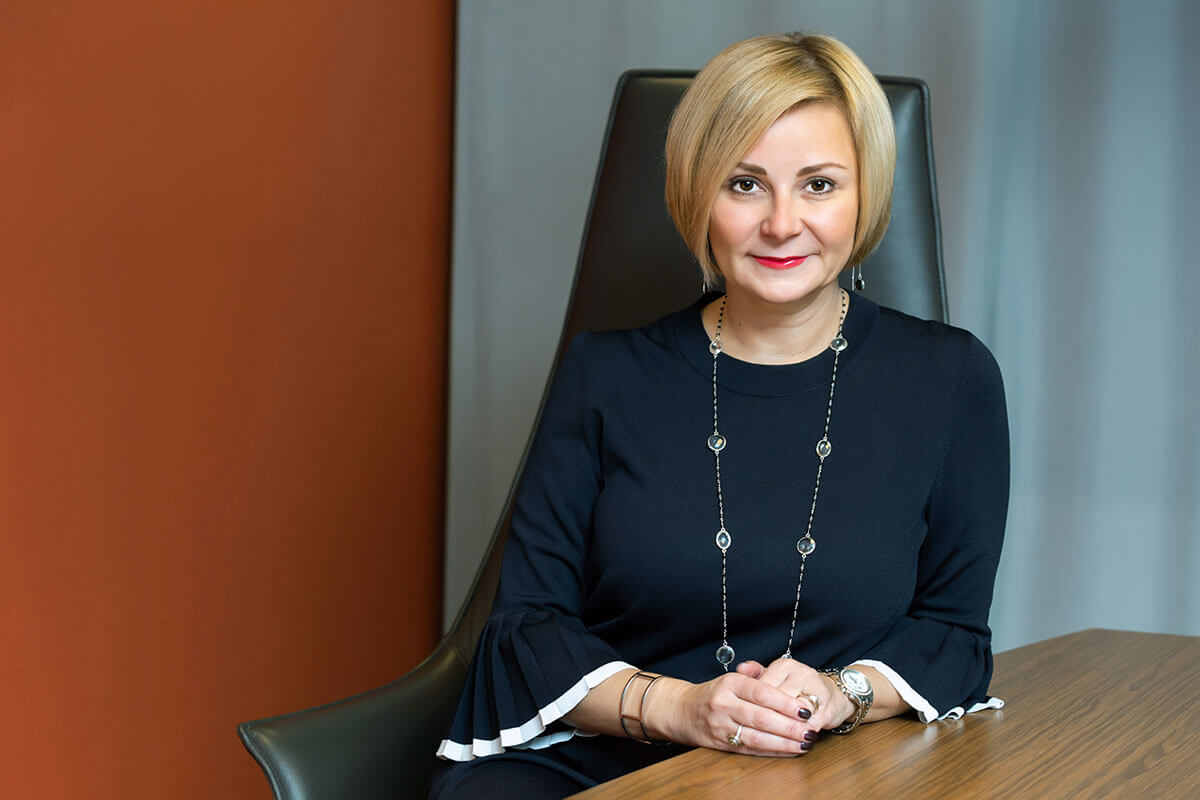 — What is your difference from competitors?
— There is competition in the market, I must admit this. Since we all work in a single legal space, it is clear that the market operates with the same basic principles for providing services to customers as determined by the Bank of Russia. In this sense, of course, there are few differences. But the devil is in the details, as you know. Let me tell you more about our two main differences related to technology.
Firstly, this is the way we build relationships with customers, optimize the customer journey, and improve the customer experience. And private services help us here. We know who our customer is and we provide each customer with an individual solution. Any private banking customer is assigned with a personal banker who deeply knows the characteristics and needs of everyone. In particular, the Bank offers comfortable access to its infrastructure with the ability to quickly solve everyday tasks where it is convenient for the customer. In terms of technology, this is achieved through the use of digital signatures and the Internet. For example, we offer mobile communication tools to advanced and dynamic customers who are always in touch and always on the go. Such solutions rely on convenient, modern, and safe technologies of the digital market.
Secondly, we actively extend the Bank's customer interaction toolkit by adding both individual modern technical solutions and high-grade platforms from classically experienced vendors and young daring fintech. We carefully monitor the IT market and try to choose the most interesting and technological solutions for regular work both inside the Bank and with our customers in private banking.
In addition to customer convenience, an important factor in introducing new technological solutions is the internal banking resource-saving which reduces the cost of document management, transportation, and storage. This, in turn, reduces the time of a personal banker for simple operations, thereby increasing its productivity in customer service.
I should note that digitalization not only penetrated private banking, but it has also already radically changed several banking business processes and introduced radical updates to the bank product lines, as well as made banking more secure. Taking into account the transaction amounts, this seems to be an extremely important advantage of our Bank.
— Do you want to say that digitalization has already penetrated deeply into private banking?
— Right, indeed! In general, our customer is getting younger. The original business owners, those who started it, are being replaced by sons and grandchildren, who, as they say, were born with a smartphone in their hands. They constantly use all new means of communication, including RBS.
And we try to comply with these requests in full. Something is created by our developers, but sometimes we become customers of products and services that are developed outside the Bank. This is important for us, therefore we closely monitor the IT market and keep aware of the current fintech landscape. Of course, any new technologies require internal improvements to the Bank's IT platforms. Thus, for us, one of the key factors in choosing specific solutions is the ease of integration and subsequent use. Of course, this should be done without compromising the quality of customer service.
— Can you give an example of a project that was entrusted to a fintech?
— In my opinion, such a project was the introduction of a mobile digital signature for individuals from SafeTech. This project combines a lot of what I talked about above (customer experience improvement, the proper level of information security, etc.).
— Let's talk about this project a little more. Who initiated the project at the Bank?
— Customers of our segment move quite actively, not only in our country but also abroad. At the same time, they intensively use the banking platform. Our customer managers heard a clear request for a solution providing authorization of payments in the mobile banking channels of the RBS anywhere in the world with the highest level of security, authenticity control, and document integrity, which are guaranteed by a fully-featured digital signature.
We wished to get an omnichannel solution which is extremely important in the case when a personal banker draws up a payment order and the customer authorizes the transaction with a smartphone.
Discussion of solution requirements with our lawyers and information security officers made it clear that it is highly undesirable to use domestic cryptography methods directly on the phone or its SIM card. Private banking customers should not have problems with the customs service when crossing state borders, even in theory. On the other hand, authorization via SMS or push notifications becomes unacceptable if you seek to achieve such a level of transaction security as with a full-featured digital signature. However, the same relates to the use of classic USB tokens and smart cards, since the solution should work on mobile devices without USB ports.
Also, it was desirable to protect the already made investments in the IT infrastructure and use the selected signature generation technologies to solve other problems. After all, digital signing with a smartphone makes a basis for many new customer services, both banking and non-financial. Naturally, in the future, if the project is successful, the solution should be scaled both to work with legal entities and to other units of Otkrytie Bank. At least I hope so.
Finally, our collective brainstorming resulted in a complex set of requirements. The relevant product manager acted as a customer from the Bank's side with the support of our IT, security, and legal teams.
— What did the tender winner's proposal look like technically?
— The chosen SafeTech PayControl solution met the stated requirements and solved many problems. Of course, we needed to adjust our IT infrastructure. However, as far as I know, we faced no specific issues: everything was ready for use in less than three months. To work on the smartphone, customers should have installed the application downloaded from the AppStore or Google Market. And this is easy.
How does it work? Our customer can submit various orders to the Bank. Let's take the simplest transaction: to make a transfer. The customer can submit a request in any convenient way: via email, messenger, or by voice over the phone. And these are all the elements of the omnichannel that we talked about. Our operator enters the details into the system and sends an authorization request to the customer's smartphone.
The customer sees a message with the payment details. If the data is correct, the customer presses the Sign (or Reject) button on the screen. The bank immediately receives this authorization and releases the transaction. Everything is very simple.
— But this simplicity induces certain restrictions, right?
— This is not a very high price given that top-level customers often become targets of technologically complex attacks. And, for example, replacing a SIM card and replacing a phone is not the most complex of them. People know the price of information security and rather calmly accept the terms that the application can be installed on only one device, and for its activation, they just need to scan a QR code. So we did not get any negative feedback in this part, particularly since the private banker and IT support of the entire Bank are always in touch with the customer.
— Are you planning to continue working with the fintech team?
— We are now at the beginning of the journey. But the fact is, we have launched the pilot project. The PayControl solution is now working successfully and meets our requirements and customer expectations. Of course, we will continue to add extra options and features, we plan to develop it. For us, this is a significant step forward.
It is no secret that some time ago, in the private banking segment, customers actively used paper power of attorney thereby assigning responsibility for managing their finances to someone else. I hope, "paper" will completely go away thanks to this product. Other problems will also go away, as intermediaries between the customer and the banker will disappear too.
— Let's get back to the beginning of the conversation. Can we say that you could make private digital?
— We believe in digital, we are open for technological progress! We cannot be "against", and we cannot unconditionally deny the positive features of many innovations. The whole world is moving towards convenience, optimizing the customer journey.
The private segment focuses on a personal approach, movement towards the customer, as well as on anticipation of the customer's desires and needs. So for us, as a representative of the private segment, innovation is an absolute plus. By the way, another difference from our competitors is the technological advantage of using mobile digital signatures!